Stockholm City Hall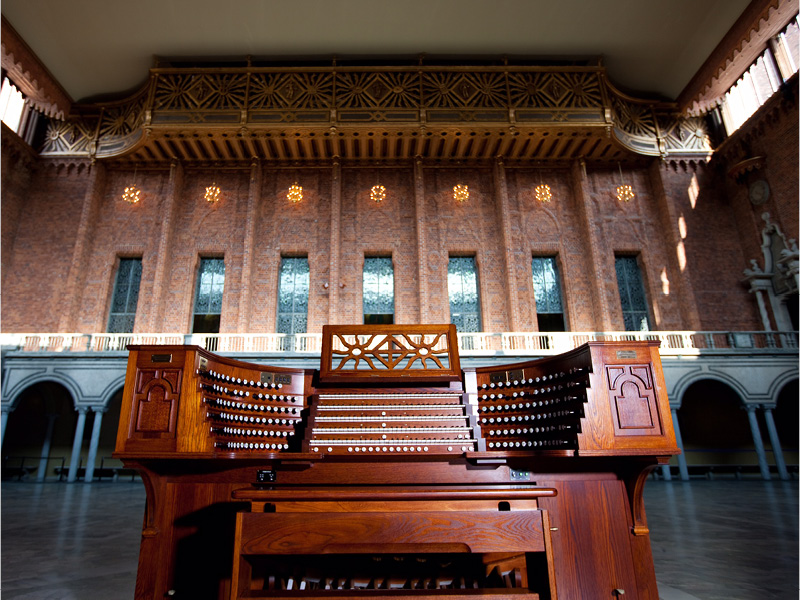 The organ of Stockholm City Hall counts as the largest in Scandinavia with its 10,000 pipes, spread over 134 stops and five manuals. The instrument was originally built by the German firm Walcker in 1925, and has been been enlarged and renovated since then, most recently by the British firm Harrison & Harrison in 2008. The echo division alone has 25 stops, and the organ as a whole boasts a unique wealth of sonorities, ranging from the ethereal to the full glory of its tutti, crowned by an English tuba. (photo: Yanan Li)
More information http://www.harrisonorgans.com/wp-content/uploads/2012/04/Stockholm-fullspec.pdf
Skandia Cinema Organ  
The organ of the former Skandia cinema is one of only two remaining cinema organs in Sweden. It is built by the famous Wurlitzer company in the US, and was erected in Stockholm's Skandia cinema in 1926. This instrument is an organ with both pipes and a battery of different sound effects: birdsong, steam whistle, bells, glockenspiel, cathedral chimes, and xylophone among others. The organ has two manuals and pedal with 7 rows of pipes that have been made into more than 40 stops. The organ has been restored recently, and is now installed in the Reactor Hall of The Royal Institute of Technology in Stockholm.
Information in Swedish www.skandiaorgeln.com
Högalid's Church
Högalid's Church was consecrated in 1923 and is located on the hills of Södermalm. The organ is built in 1966 by Olof Hammarberg, but the facade is from the original Åkerman & Lund organ, designed by Ivar Tengbom. The organ has been renovated and has now 64 stops on four manuals and pedal. This is the largest organ built by Hammarberg. The church also has a smaller organ built by Mads Kjersgaard and Robert Gustavssons orgelbyggeri AB in 1984. 18 stops and tuned in Kirnberger III.
More information, in Swedish: Orgelfolder-Hogalidskyrkan.pdf
Hedvig Eleonora's Church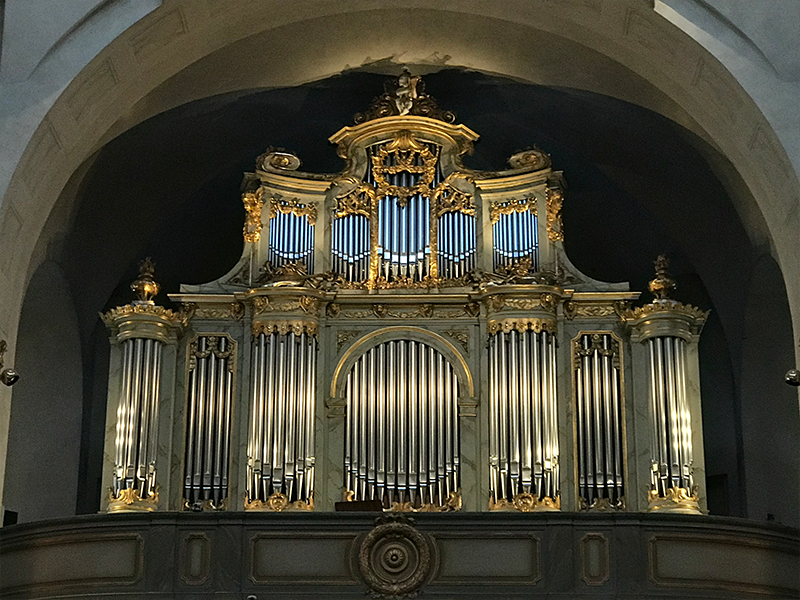 Hedvig Eleonora's church organ.
Immanuel's Church
Immanuel's church organ.
Konserthuset Stockholm – Stockholm Concert Hall
The organ in Stockholm Concert Hall is with its magnificent façade designed by architect Anders Tengbom, one of Europe's most famous, and with its 6100 pipes also one of the largest. Built by Grönlunds in 1982. The instrument has 69 stops distributed over four manuals and pedals.
More information, in Swedish: http://statisk.teknikaliteter.se/nya-artiklar-20170829/konserthusorgeln/TTT-konserthusorgeln.htm
Engelbrekt's Church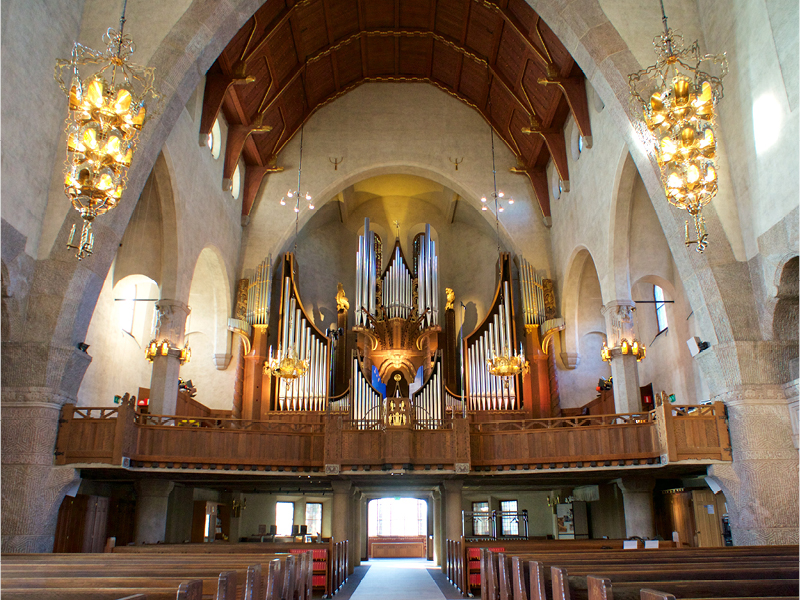 Engelbrekt's church was consecrated in 1914. Internationally it is considered one of the most striking examples of the Arts and Crafts movement in Sweden. It blends Gothic style with Art Noveau, tempered by a remaining streak of national romanticism. The organ, built in 1964, is the largest instrument by the Swedish organ builder Grönlund in Luleå. Completely renovated in 2015, it comprises 91 speaking stops over 7 divisions, five manuals and pedal. (photo: Stefan Therstam)
More information, in Swedish: OrgelinfohAfte-Engelbrekt.pdf
The German Church – The Düben organ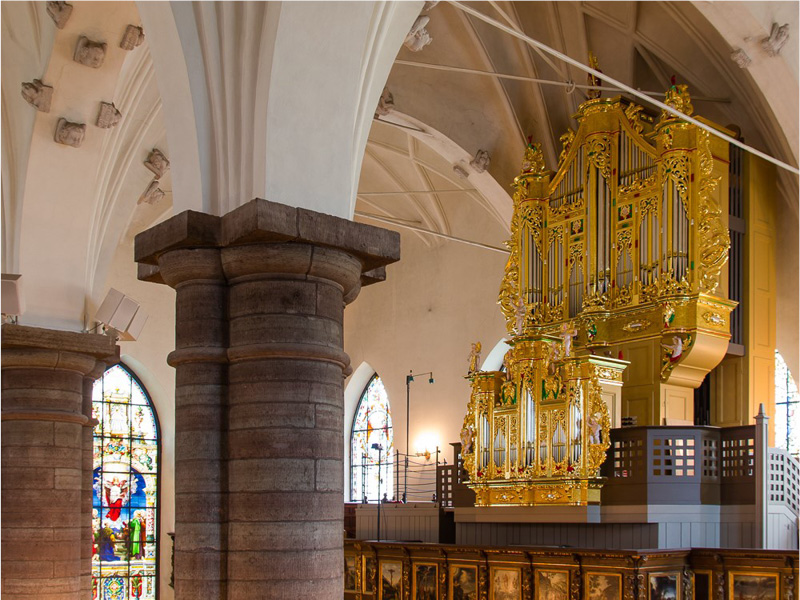 The German Church (Tyska kyrkan) is situated in the Old Town. The Düben organ (2004) was built by the Swedish firm Grönlund in Luleå as a replika of an instrument built for this church and used between 1608 and 1651. It was then sold to Northern Sweden in 1779. This meantone organ represents Dutch tonal style and is closely connected to Swedish Music history and to the musical activity of the Düben family in the 17th century. (photo: Dirk Thomas)
More information Disposition-Duben-Orgel-Deutsche-Kirche-Stockholm.pdf
The German Church – The Juno organ
The romantic organ of the German Church is the parish's fourth instrument and was built in 1887 by the Swedish company Åkerman&Lund. It represents the final phase of Lund's first creative period, when abundant designed two-manual organs were built also for large churches. The instrument was dismantled in 1972, when it was considered unmodern, and replaced by a modern one. In 2018, however, it was extensively restored and rebuilt in its original shape and place in the tower. Together with the early baroque Düben organ on the south gallery, it forms a unique organ microcosm in the German St. Gertrude's Church.
Sofia's Church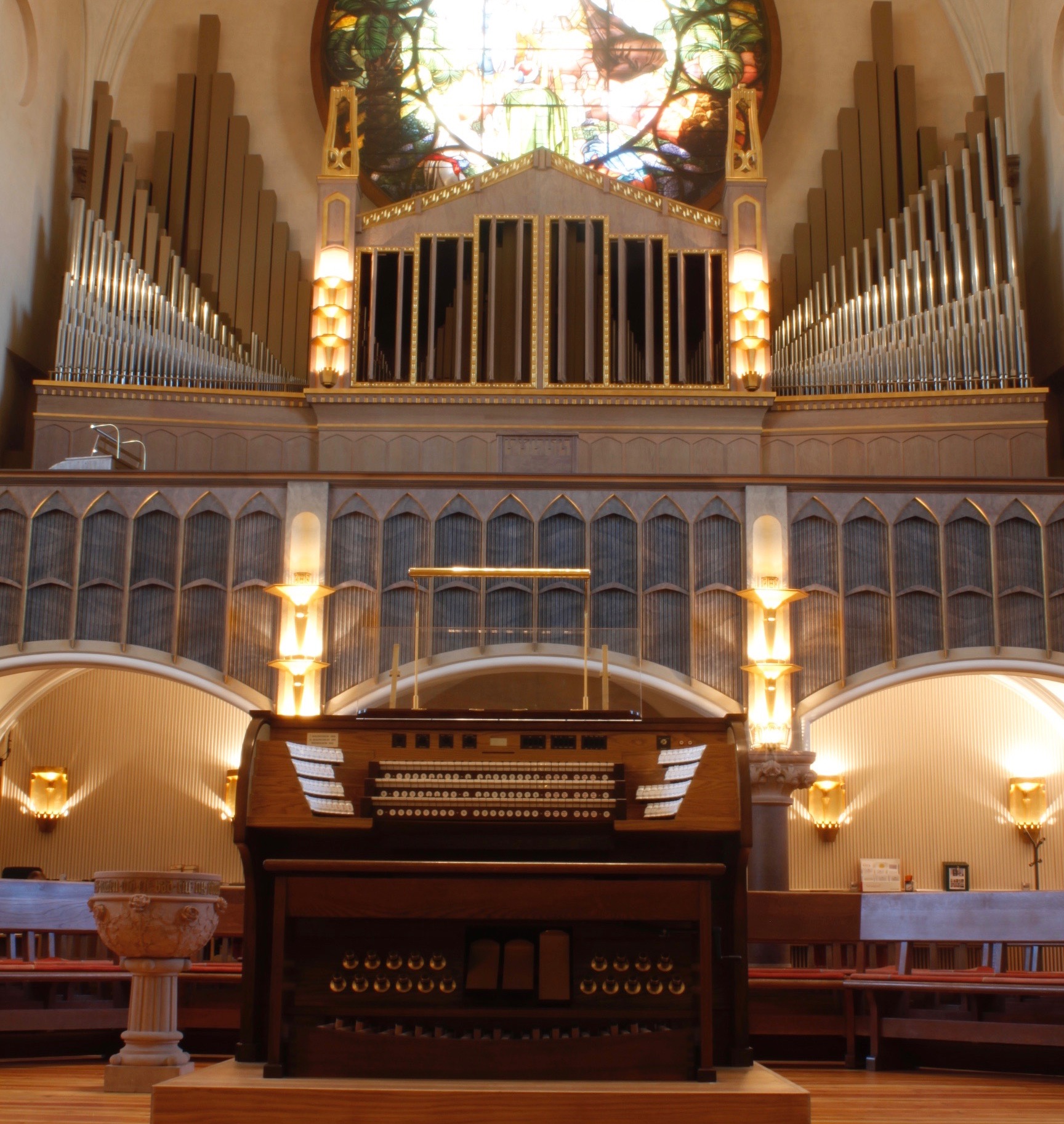 Sofia's Church was consecrated in 1906. The church is situated on a hill Vita Bergen with a view over Stockholm. The organ was built in 1951 by the Swedish firm A. Magnusson Organbuilders, and almost all pipe material from an earlier organ, built in 1906, was used. In 2012-13 the organ was rebuilt by the English firm Nicholson & Co. The organ has 58 stops on three manuals and pedal. (photo: Caroline Hedin)
More information Sofia-Church-Organ—IBO-Article-2013.pdf
More information and GPS coordinates to the City Hall here: http://www.visitstockholm.com/en/See–do/Attractions/The-City-Hall/
GPS coordinates to the churches: https://en.wikipedia.org/wiki/List_of_churches_in_Stockholm